All Wiredrive Projects accounts now have the ability to sync their content over to the new MediaSilo platform.
We'll be opening up the sync for our Wiredrive Library users in the future. Stay tuned for further developments.
Important Things to Know
Syncing Your Projects
A user must be a Project AND Library administrator in order to sync projects to MediaSilo.

Once a project is synced to MediaSilo, it will no longer be accessible in Wiredrive, and the action is not reversible.

The following will be synced to MediaSilo when a project is migrated:

Project Settings (project title, description, and image)

Project Team

Folders and Subfolders

Assets & Asset Information

The following will NOT be synced to MediaSilo when a project is migrated:

Project trash

Legacy project reports

Legacy presentations

Asset-level approvals and comments
Links and Reporting
All presentations created in Wiredrive will remain active until expired or manually deactivated through Wiredrive Reporting.

Migrating a project to MediaSilo will not affect links associated with that project, although expiration dates on links CANNOT be changed once their associated project is synced to MediaSilo.

Once expired or deactivated, links associated with a synced project will NOT be able to be reactivated.

All reports for presentations and links in all projects (regardless if they are synced) will continue to live in Wiredrive for the foreseeable future.
Getting Started
A user must be a Project AND Library Administrator in Wiredrive in order to sync their projects to MediaSilo. Users with these permissions will be referred to as Sync Admins in this article.
Accessing the Migration Wizard
Log in to MediaSilo at app.shift.io or via the desktop app by either typing in your Wiredrive email address to receive a login link, or authenticating via a listed third-party provider tied to that same email address.

Navigate to the Administration panel and click the link in the blue banner at the top of the page.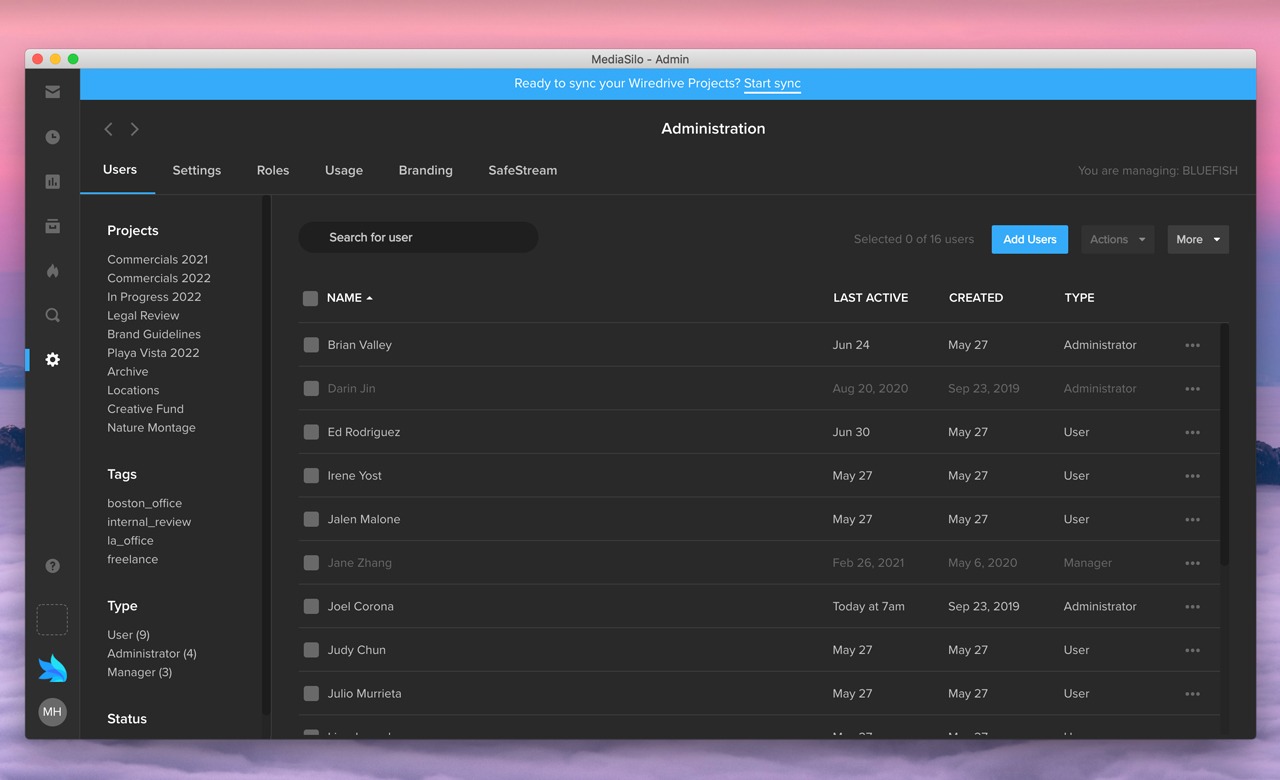 If you are a Sync Admin and do not see this banner in your Administration Panel, please contact your Customer Success Manager for more information.
Using the Migration Wizard
1. As a Sync Admin, you'll have the ability to choose how you'd like to manage your account's transition process.
Sync projects one at a time by selecting the checkbox next to one (or more) projects and clicking MIGRATE SELECTED.
Click MIGRATE ALL to migrate all projects at the same time.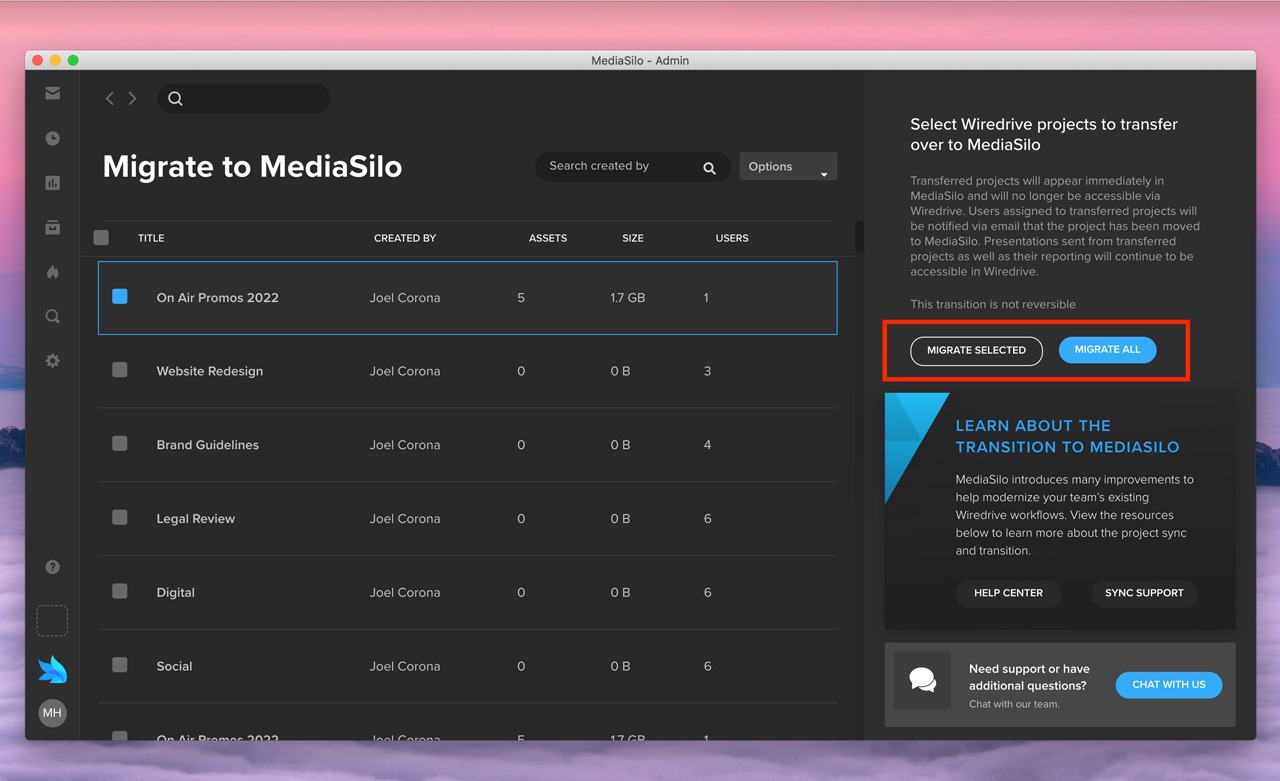 IMPORTANT: Once project(s) are synced from Wiredrive to MediaSilo, the projects will no longer be accessible in Wiredrive, and all remaining assets in the Project's trash will be deleted. This action is not reversible.
2. A pop-up message will appear asking you to confirm this information.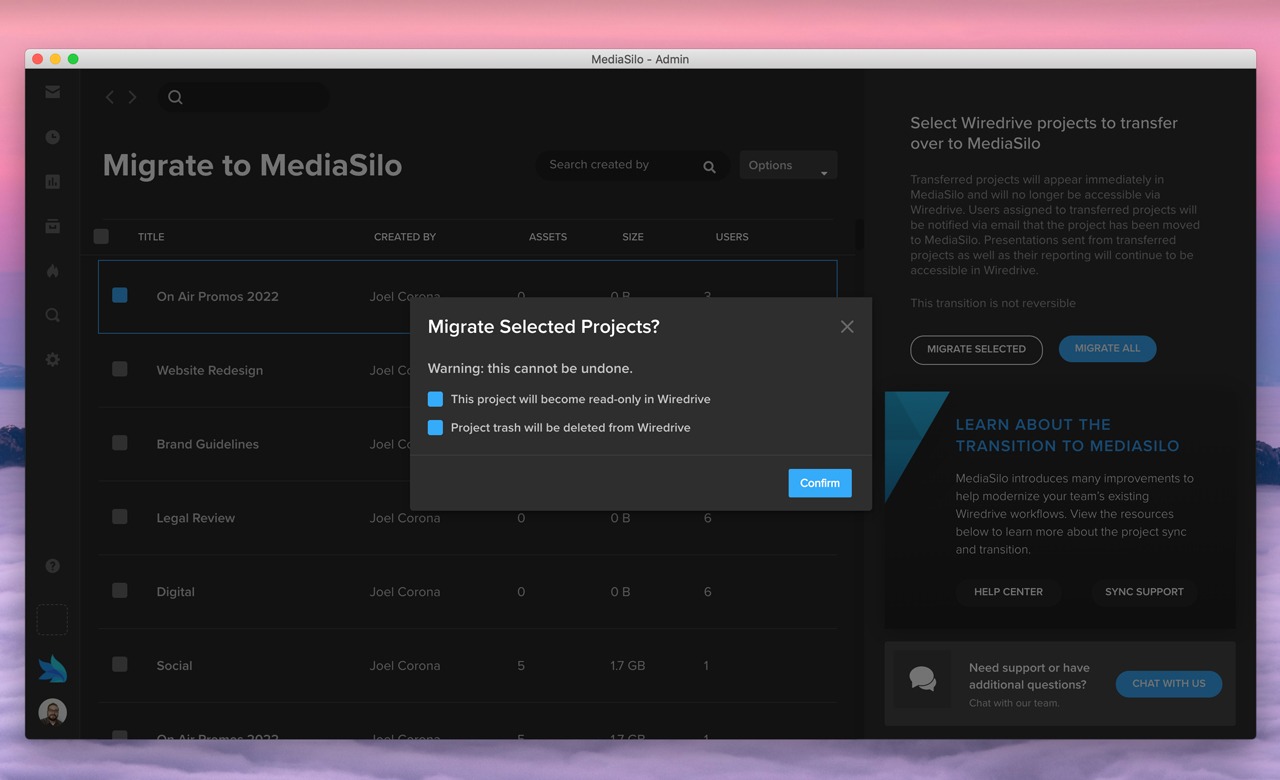 3.) After selecting CONFIRM, your project(s) will be migrated to MediaSilo, and an email notification will be sent to each user assigned to those project(s). The email will state that the project has been synced to MediaSilo and include a direct URL to its new location.
Behavior of Migrated Projects
Migrated Projects in MediaSilo
After your users log in to MediaSilo with their Wiredrive email address (either using the direct link sent via a synced project email notification, or via app.shift.io), they'll be able to access all of their synced projects in their Project Panel. Synced projects from Wiredrive will perform just like any other MediaSilo project and offer full functionality.
Updates on synced projects in MediaSilo will NOT be synced back to Wiredrive. Once synced to MediaSilo, a project cannot be accessed in Wiredrive, with the exception of its legacy link reporting and the ability to export its data into a spreadsheet.
Migrated projects in Wiredrive
Once a Wiredrive account is activated for the project sync, a new column will appear in the "My Projects" and "Project > Reports" section of Wiredrive called "Moved to MediaSilo." Projects that have been migrated to MediaSilo will be marked "Yes" in this column. This column will also appear in the User Directory when an admin is assigning new users to projects. Users will not be able to be assigned to projects already synced to MediaSilo.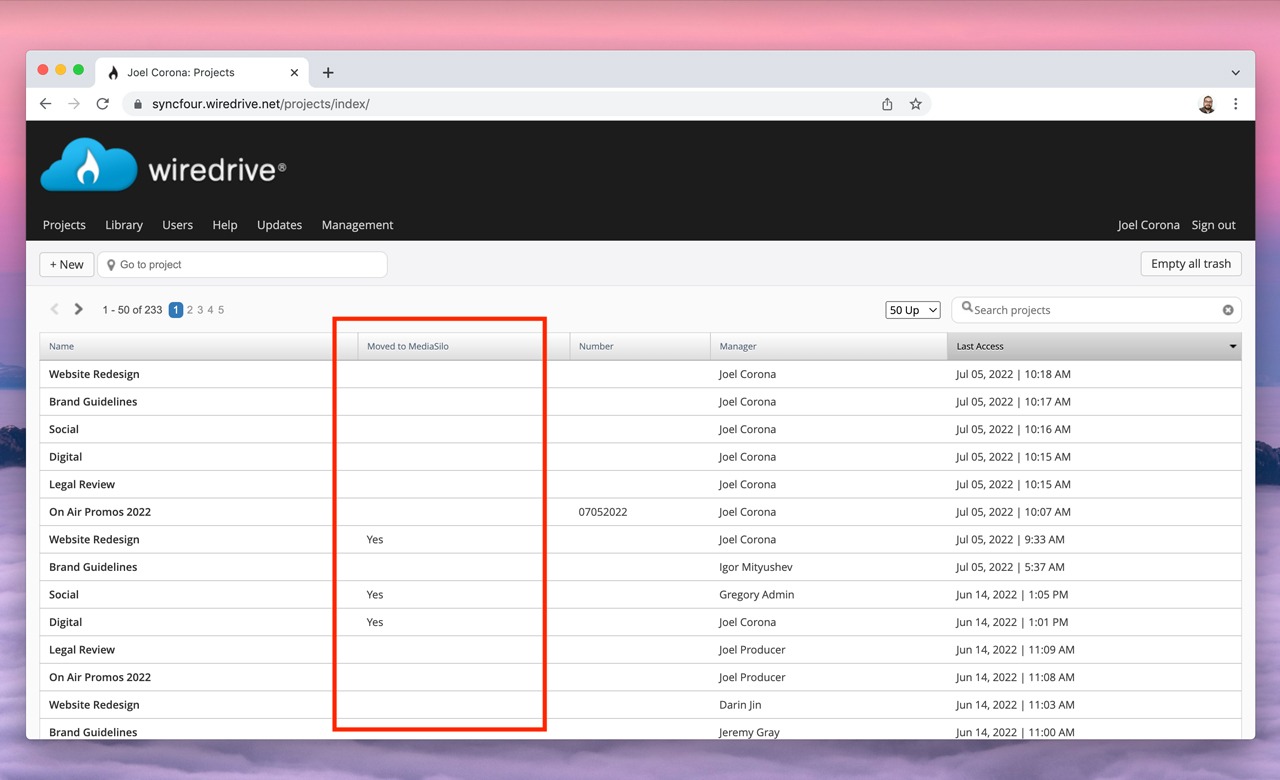 If a user attempts to navigate into a migrated project, the following message will appear:
Other things to know
Assets and folders in the project will no longer be accessible, although the asset and folder list will stay visible on the left side of the page (in a disabled state).

All project action buttons will be disabled except for "Delete Project" and "Export". You will still be able to export data from a synced project and remove the project from the Wiredrive side. However please note that deleting a migrated project in Wiredrive will not delete it in MediaSilo.
Links and Reporting
Reporting for links created in Wiredrive ("legacy" links) will NOT be synced to MediaSilo when a project is synced. Instead, legacy link reports will remain accessible in Wiredrive for the foreseeable future.

All legacy links will remain active until they expire, or are manually disabled from the Wiredrive Reporting panel.

Once a legacy link expires in a project that is actively synced to MediaSilo, it will be permanently deactivated and it will not be possible to re-open the link.
Users, Themes, and Subscriptions
Aside from projects, here's what else will sync over from Wiredrive to your MediaSilo account.
Users
All users will be synced over with the same permissions they had in Wiredrive. This means they won't be able to see any projects in MediaSilo until the ones they're assigned to are synced over, or if new projects are created in MediaSilo that they are assigned to. Administrators will still be able to see all projects. More information on the permission sync can be found here.
Themes
Existing themes from Wiredrive will not be carried over but will be easily replicable with Spotlight, MediaSilo's turn-key template builder connected to all your projects and assets. Create beautifully branded experiences with just a few clicks.
Instead of going back and forth with tech support, you'll have the freedom to either customize our pre-built templates based on your use case, or start your own from scratch.
Your company logo will be pulled into all of our pre-set templates to get you started. From there, you can easily refine the settings to achieve the exact look and feel of your company's brand identity.
Subscriptions
All subscriptions will be billed the same way, and account storage limits, including overage policies, will still apply. The average GB billed towards the contract limit will include all non-synced content in Wiredrive Projects and Library, the projects synced over from Wiredrive to MediaSilo, and any net new assets uploaded into MediaSilo.