Protect your videos with personalized visible and forensic watermarking.
MediaSilo uses SafeStream watermarking technology to re-encode video files with visible and forensic watermarks that are personalized to the viewer. These files are created in seconds, usually the time it takes a video to load, regardless of the video's duration or the number of recipients in a Review Link. Watermarks are burned into the file and cannot be removed. A unique file is created for each person who accesses the watermarked content. In this article, we will cover the following watermarking topics:
SafeStream is a premium option available in MediaSilo, Screeners.com, and as an API to integrate with your applications. To trial SafeStream or to learn more about purchasing it for your workspace, please contact sales@shift.io or customersuccess@shift.io.
Duration Requirements
MediaSilo supports visible watermarking, forensic watermarking, and a combination of both. To apply a visible watermark to a video, the video must be a minimum of 5 seconds long. To apply a forensic watermark, the video must be a minimum of 3 minutes long. Forensic watermarking may fail for videos under 3 minutes. Users will be unable to download any watermarked video (visible or forensic) under 5 seconds long. Visible watermarked videos under 5 seconds will still play within the platform.
Enable SafeStream on a Project
To turn on SafeStream watermarking, go to your project settings by clicking the gear icon next to the project's name. Note that you must be an administrator or a project owner to access this feature.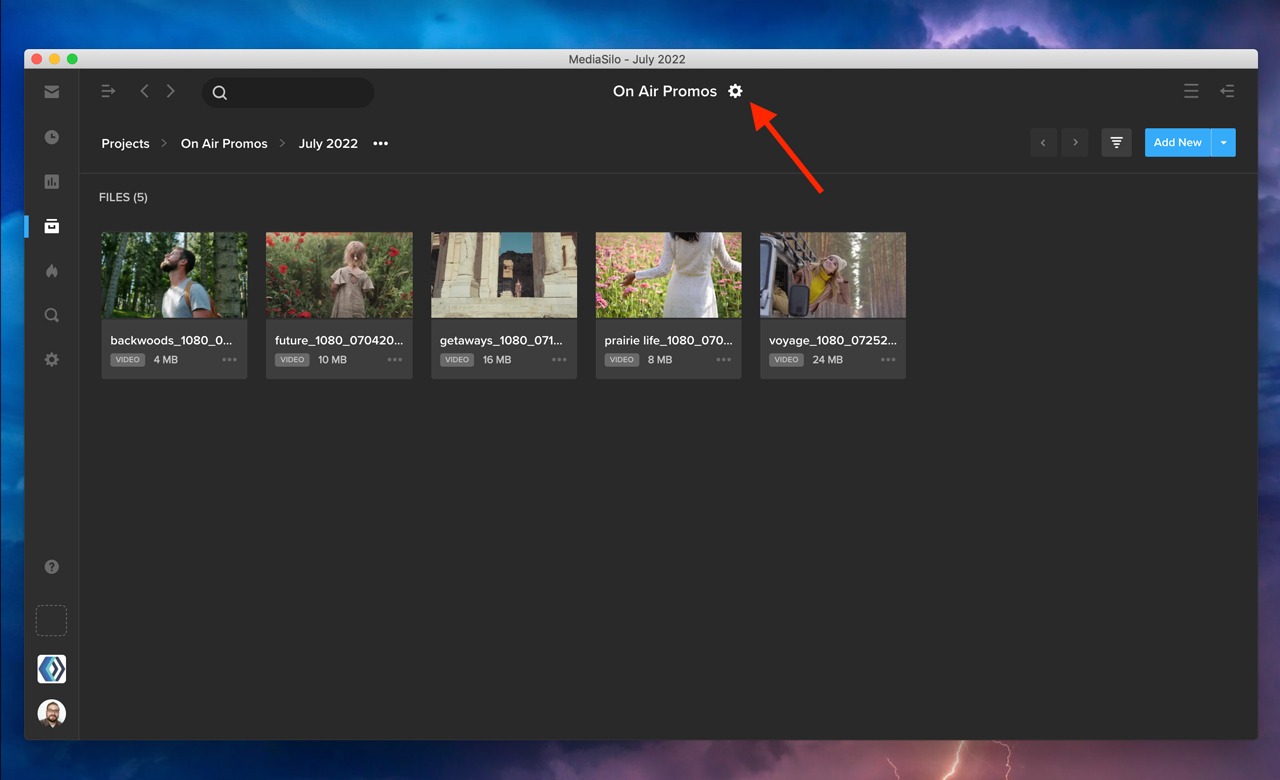 Then, click SafeStream on the left side of the Edit Project window. Now, you can turn on the Watermarking toggle and select a watermark template from the dropdown menu.
Please note that you cannot share a file from a project with forensic watermarking until the file has completed profiling. This takes approximately 2.5x the runtime.
Share Files from a Watermarked Project
Public and private sharing are both allowed from watermarked projects (if a user has been granted sharing permission).
When watermarking is turned on at the project level, you do not need to set a watermark for individual Review Links. The watermark template selected by the project owner or administrator is automatically applied.
Keep in mind that a project's watermark template will affect your sharing options. In the example below, the template includes a Name watermark, so you can only select "Workspace users" under Access type. To learn more, please see the Sharing Restrictions section.
Enable SafeStream on a Review Link
You can watermark individual Review Links instead of watermarking a project as a whole.
To watermark the files in a link, go to the Advanced section in the Share window, and select Watermarking. Then, you can either apply an existing watermark template or tailor the watermark as needed for the link.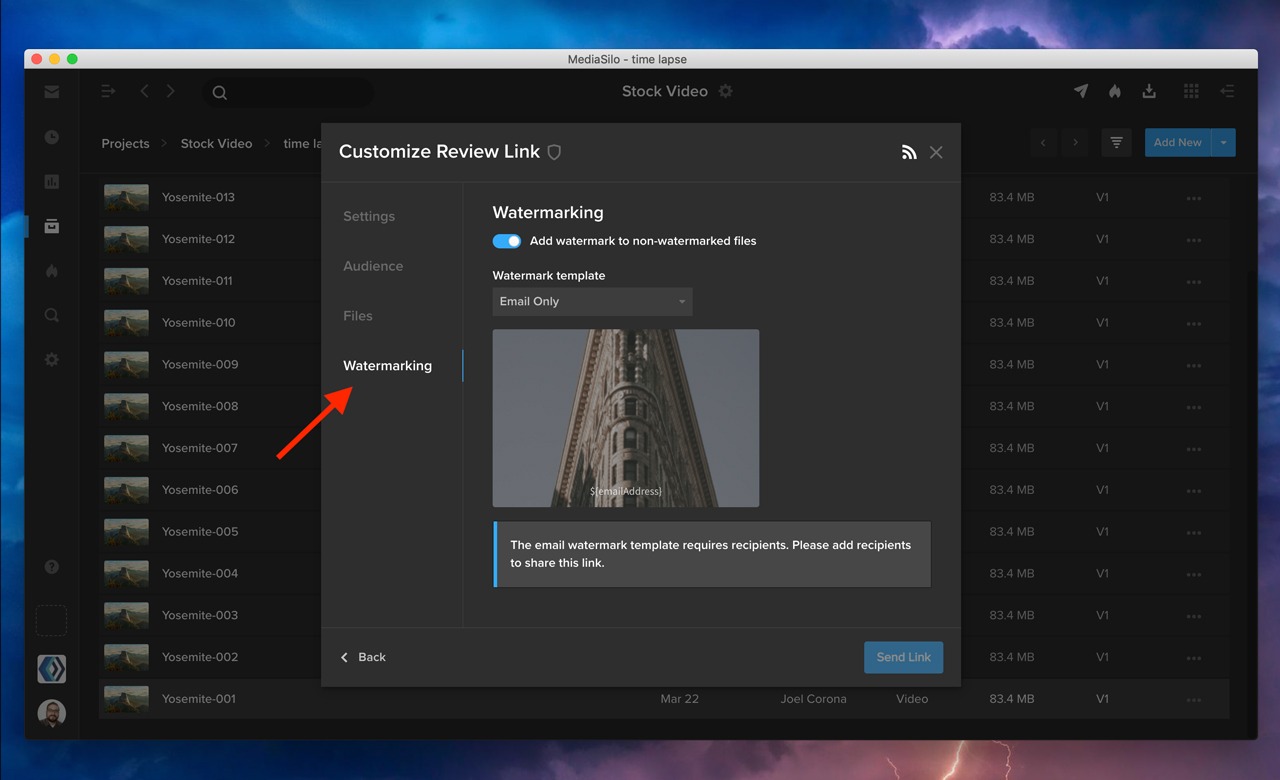 If a watermark template includes a viewer's email address, then you need to add specific emails or user names to the "Recipients" field.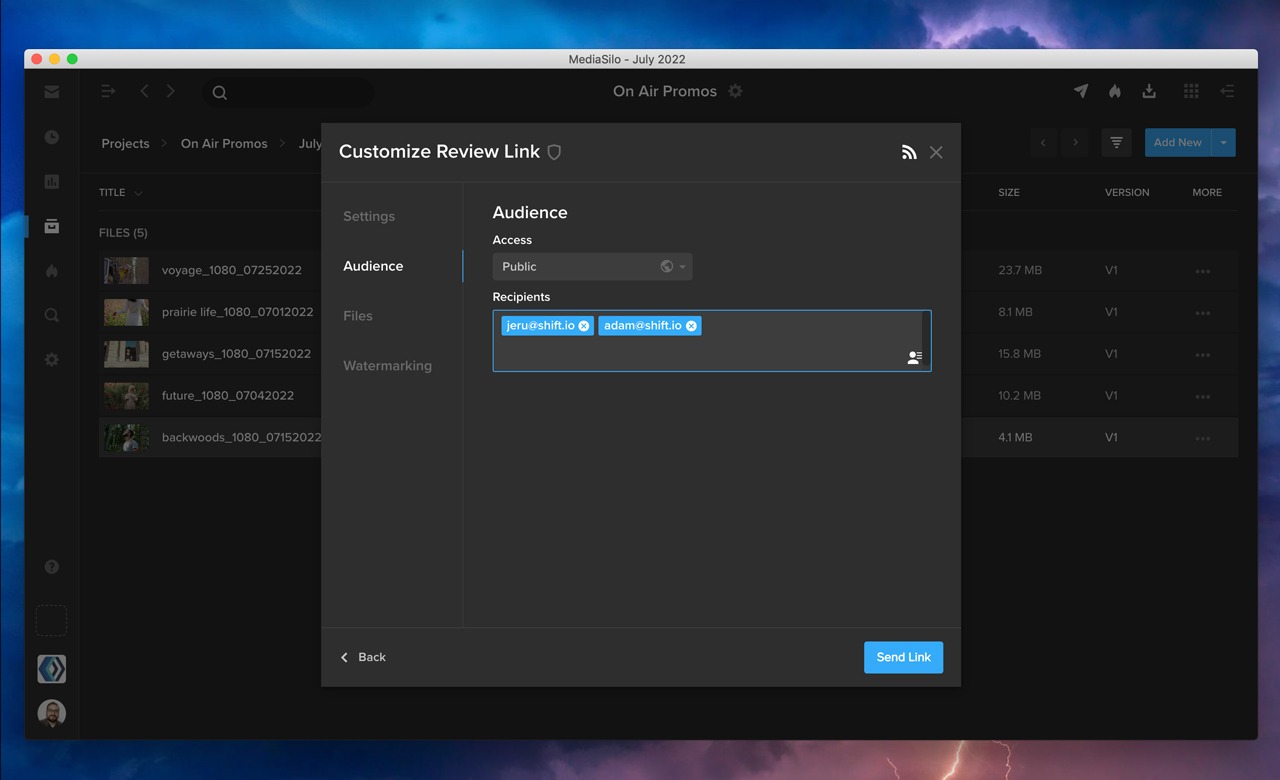 If you are using the collection bin to share files from different projects, some files might belong to watermarked projects while others are from non-watermarked projects. In this case, you can still select "Add watermark to non-watermarked files." This will apply the watermark of your choice to the previously un-watermarked files; the files from a watermarked project keep the watermark settings applied at the project level.
Note: If downloading is enabled on a Review Link, then the watermarked proxy will be downloaded.
Send a Watermarked Link to a Recipient
When you send a link containing watermarked content, MediaSilo may need to verify your recipient's identity before the recipient can access your content. This will depend on the type of watermark you use.
If a watermark displays your recipient's email address, then the Share window will prompt you to enter your recipient's email address. This way, your recipient can receive an email with a "View Link" button: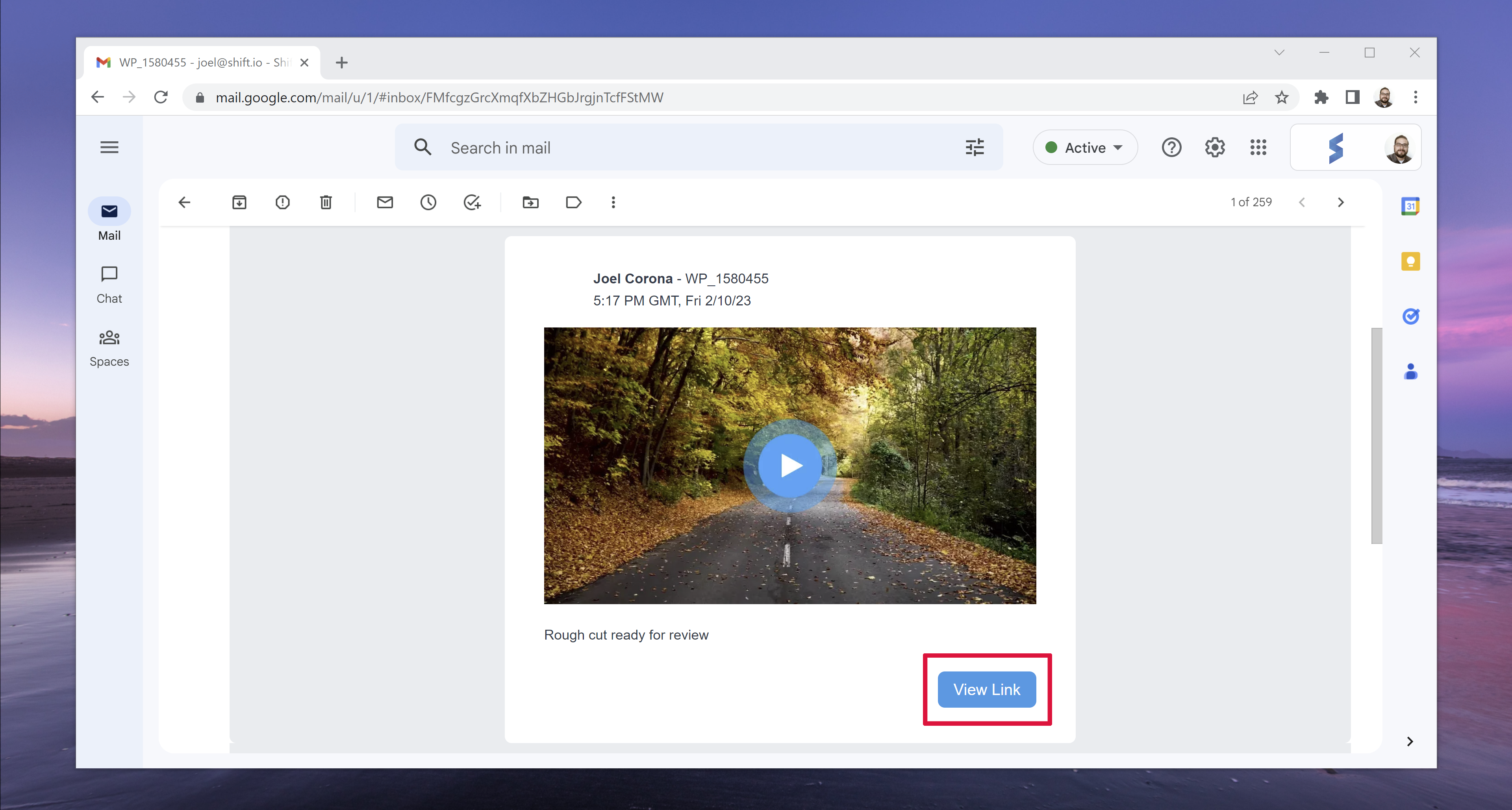 Once your recipient clicks this button, MediaSilo can create a watermark that is personalized to the recipient. (To resend an existing link to a recipient, please see Use the "History" Tab to Copy or Resend a Link.)
If a watermark displays your recipient's name, then the recipient will be prompted to log into their MediaSilo account before they can access the content. If a watermark displays custom text, such as the words "Property of [your studio's name]," then logging in is not required, since the watermark does not contain any of the recipient's identifying information.
Use the "History" Tab to Copy or Resend a Link
Sometimes, you need to resend a Review Link to a recipient. In this case, there is no need to create a new link. Instead, you can copy or resend the existing link using the History tab.
First, open any project. Then, open the left sidebar by clicking the arrow button in the top left, next to the envelope icon.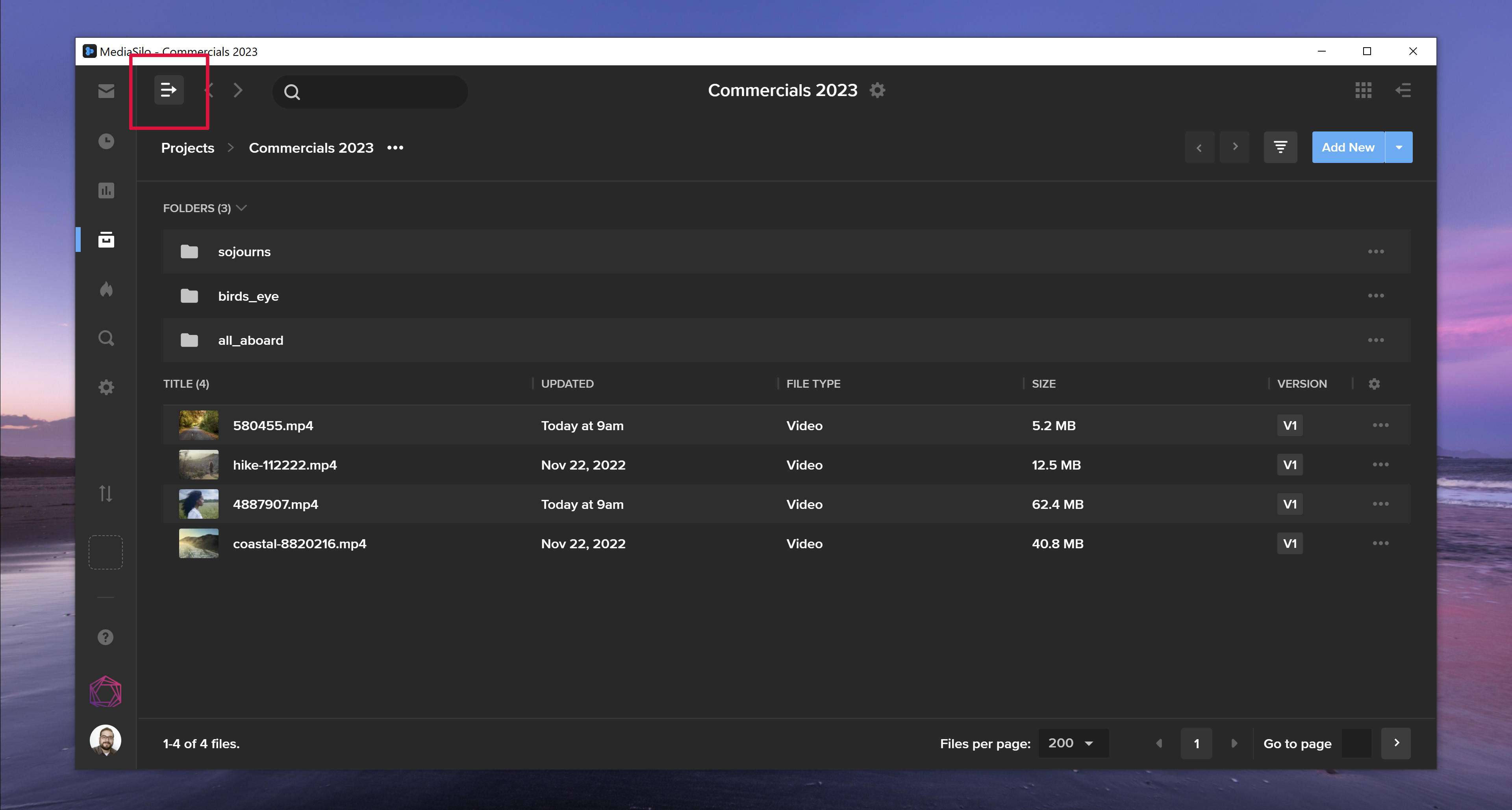 This sidebar contains two tabs. Go to the second tab, the Sent Links tab. Here, hover over the link you want to resend, click the three-dots button, and select "Edit."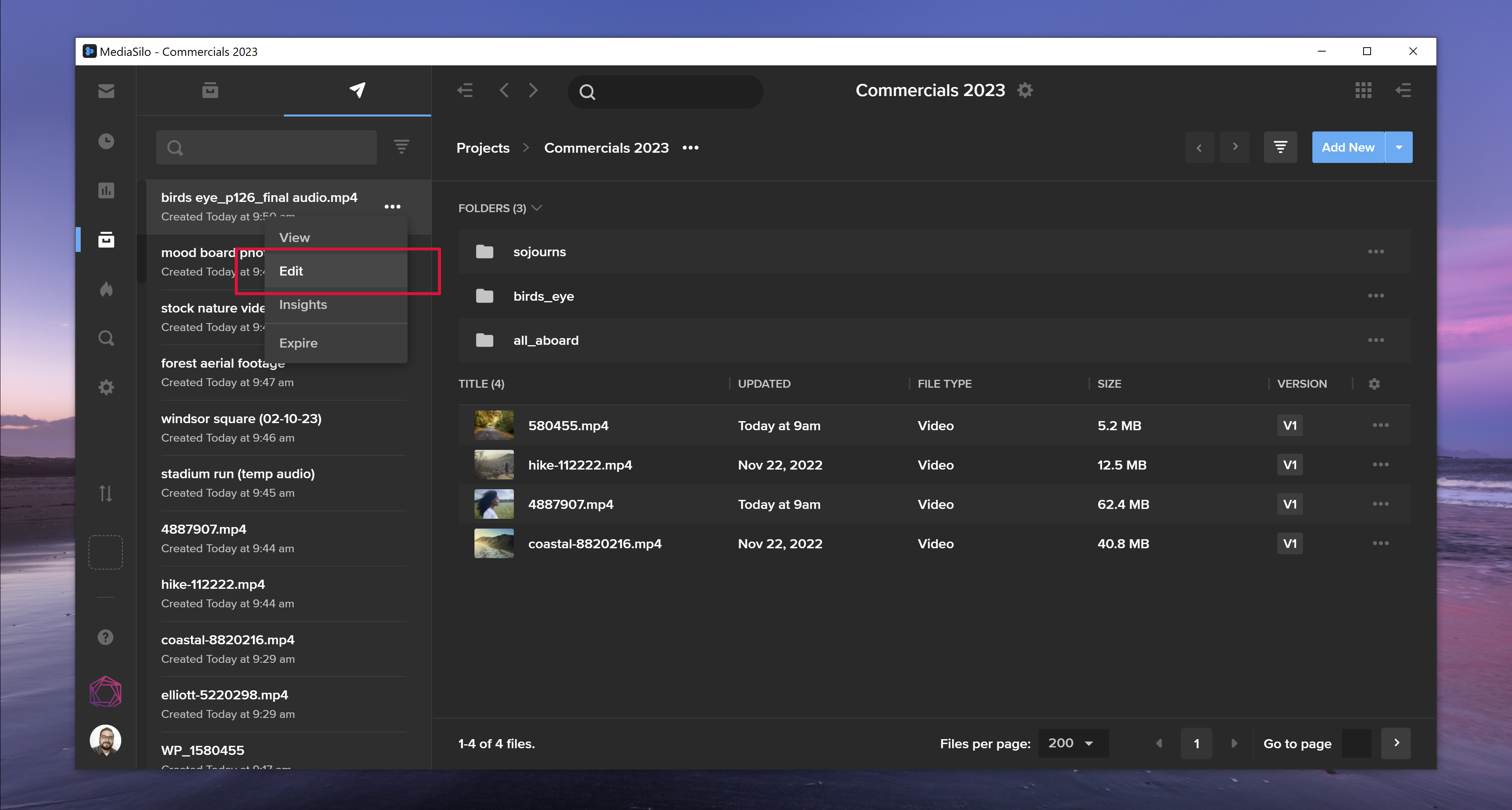 Now you will see your Review Link's settings. Click the Advanced button in the bottom left corner of this window.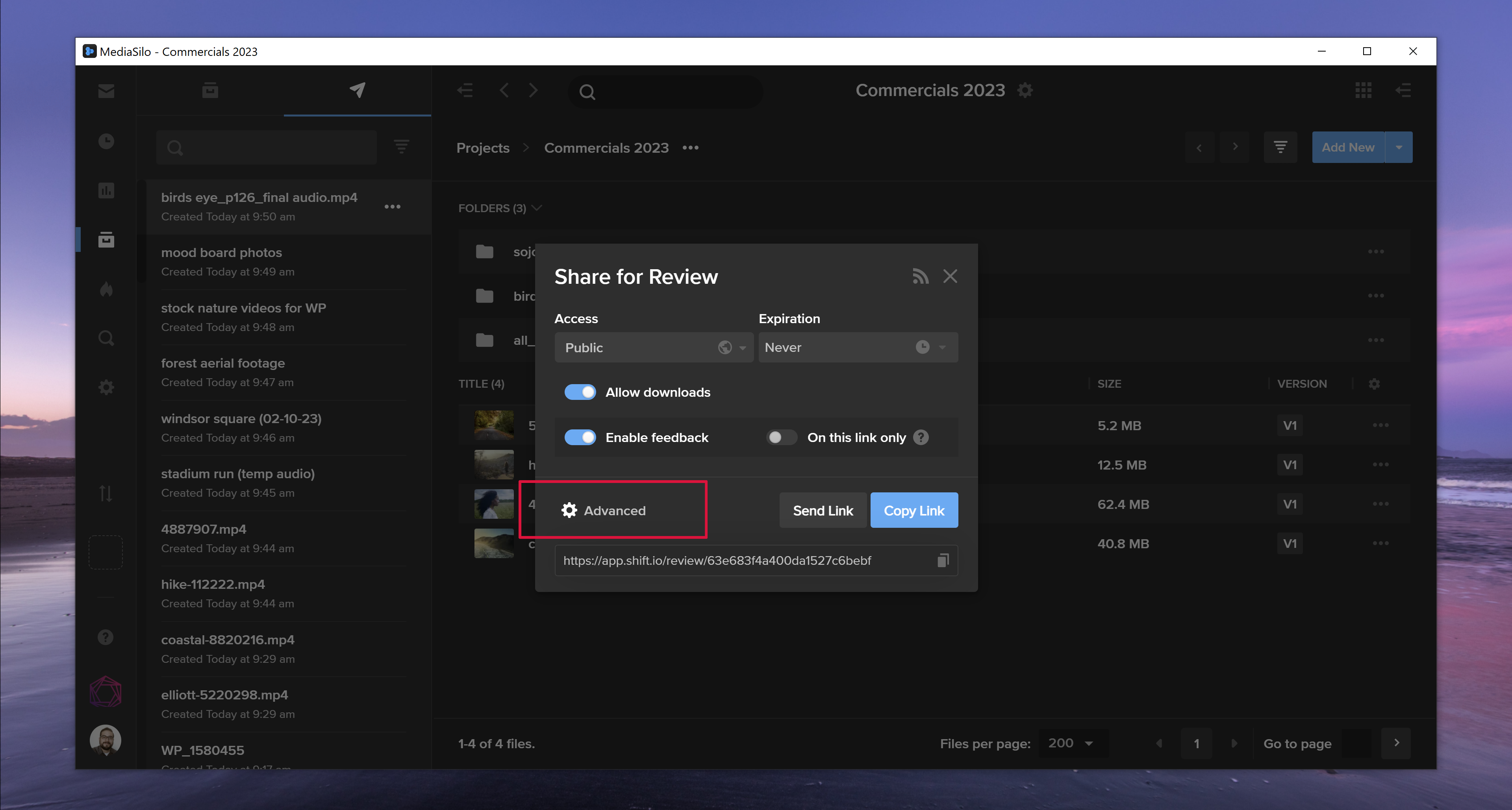 This will open a larger view of your link's settings. Go to the History section to see a list of people who received the link.
Find the recipient you want to reshare the link with. Then, click the three-dots button at the end of the row to either copy the link to your clipboard or to resend the link. If the link is watermarked, you can copy the link that corresponds to a specific recipient. If you select Resend, the recipient will receive a new email containing a link to the content you shared with them.
Workspace-Level Watermark Settings
Create a Watermark Template
Administrators can create watermark templates that are available across the entire workspace.
Start by clicking the gear icon in the left-side navigation bar to open the Administration page. Then, click the SafeStream tab.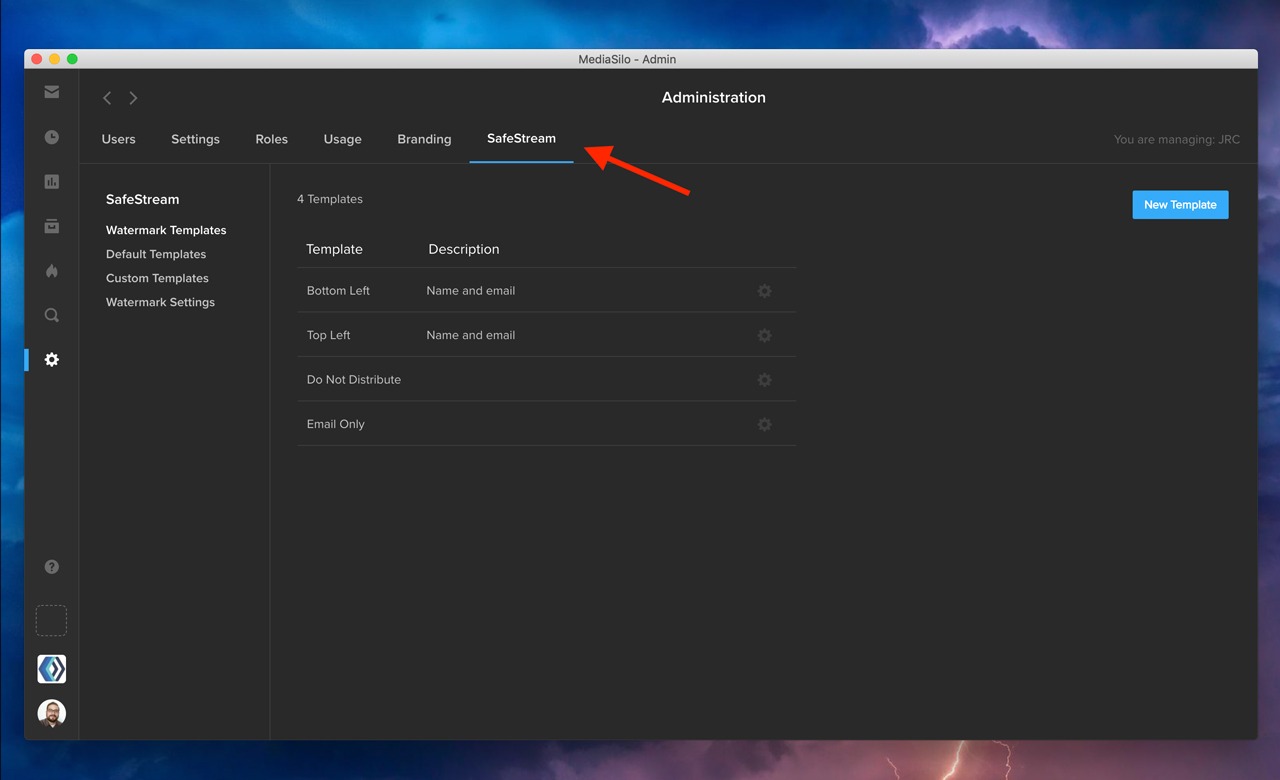 Next, click the blue New Template button in the top right.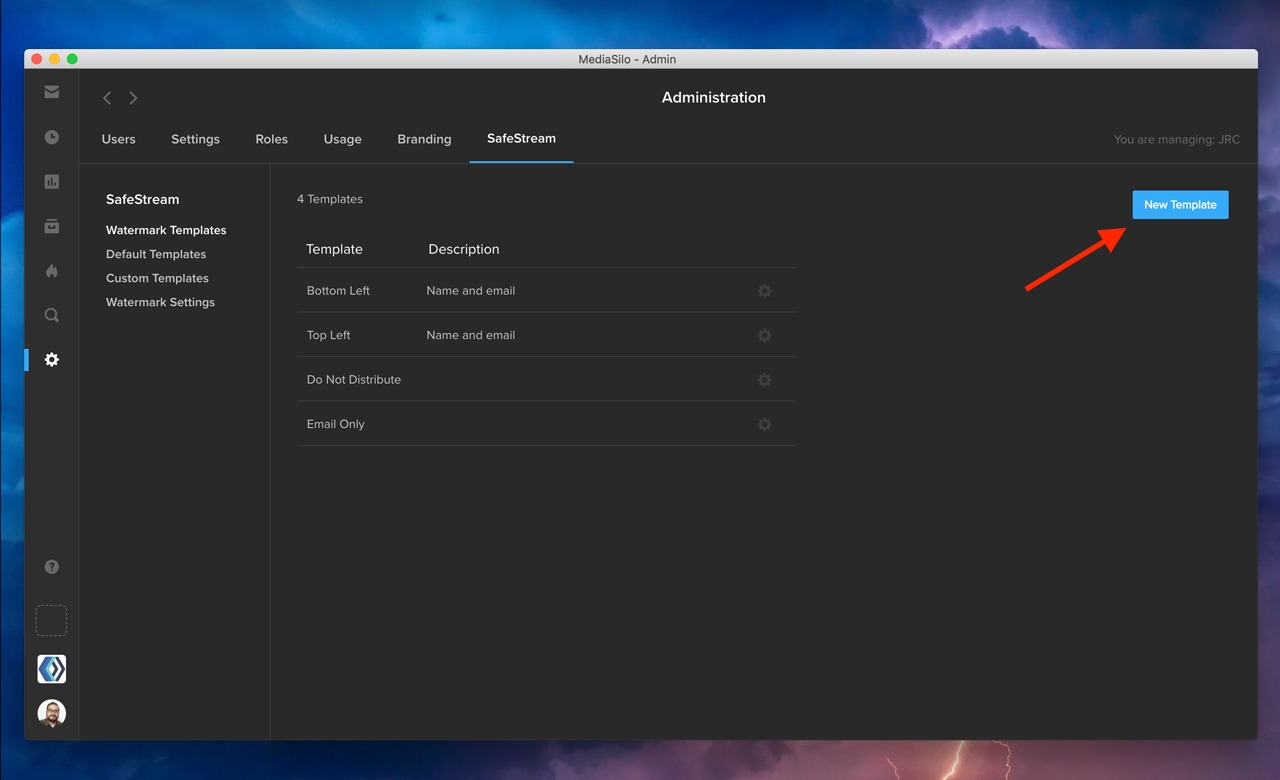 This opens the watermark editor, where you can click Add Mark to add watermarks to your template.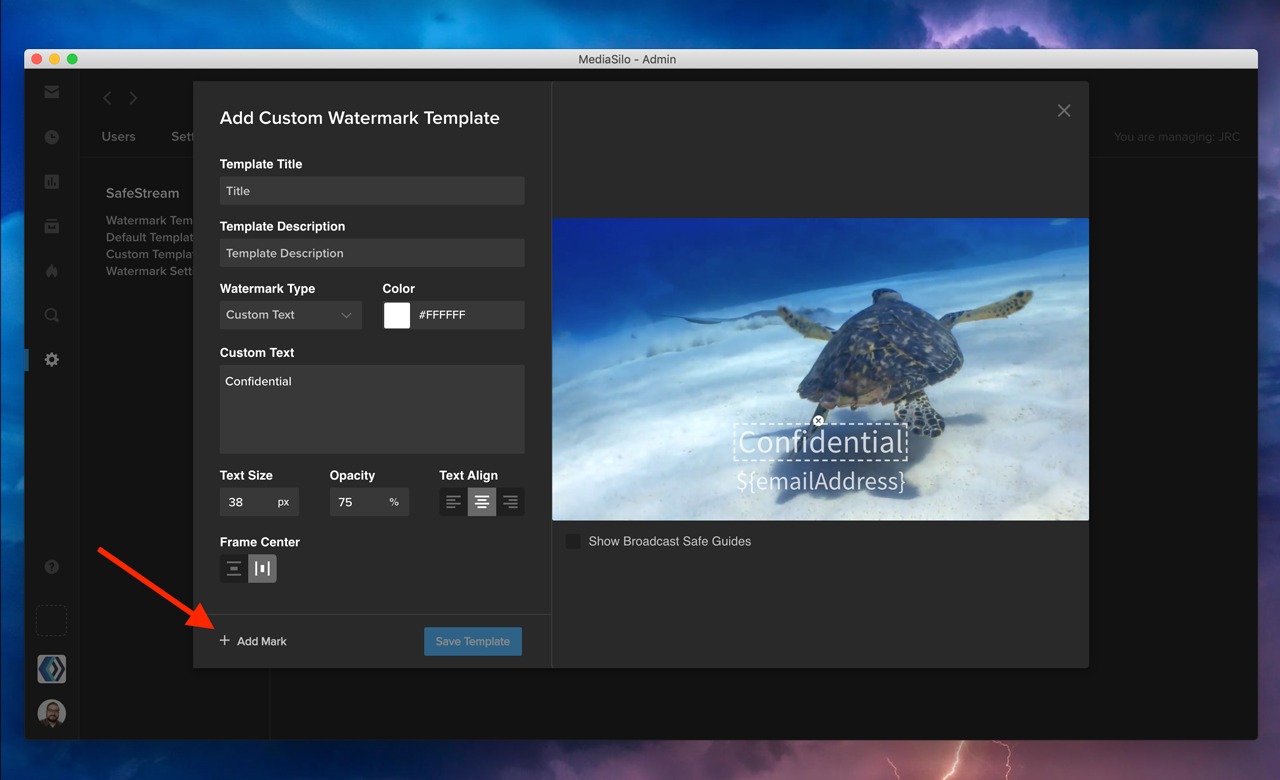 Select a watermark and click the Frame Center buttons to center your watermark horizontally, vertically, or both.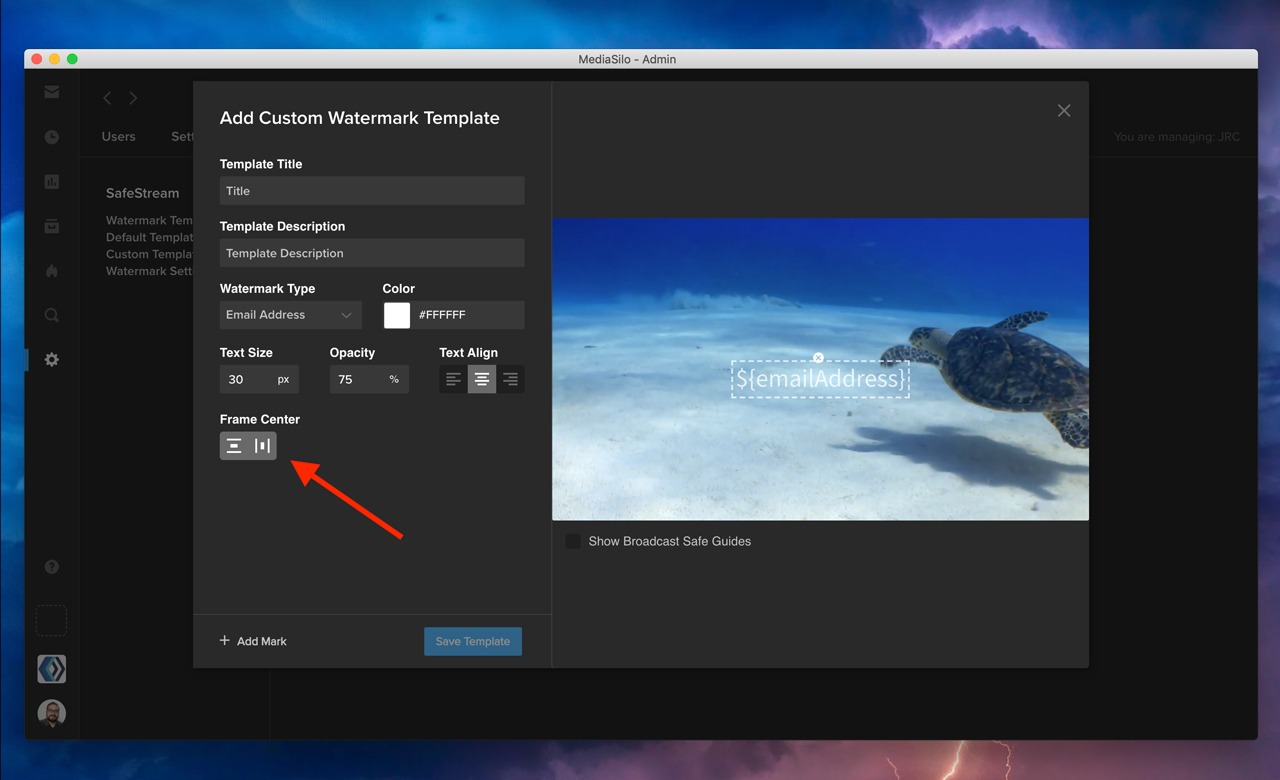 Watermark Settings
As an administrator, you can apply watermark settings to your entire workspace. On the Administration page, under the SafeStream tab, click Watermark Settings on the left side of the page.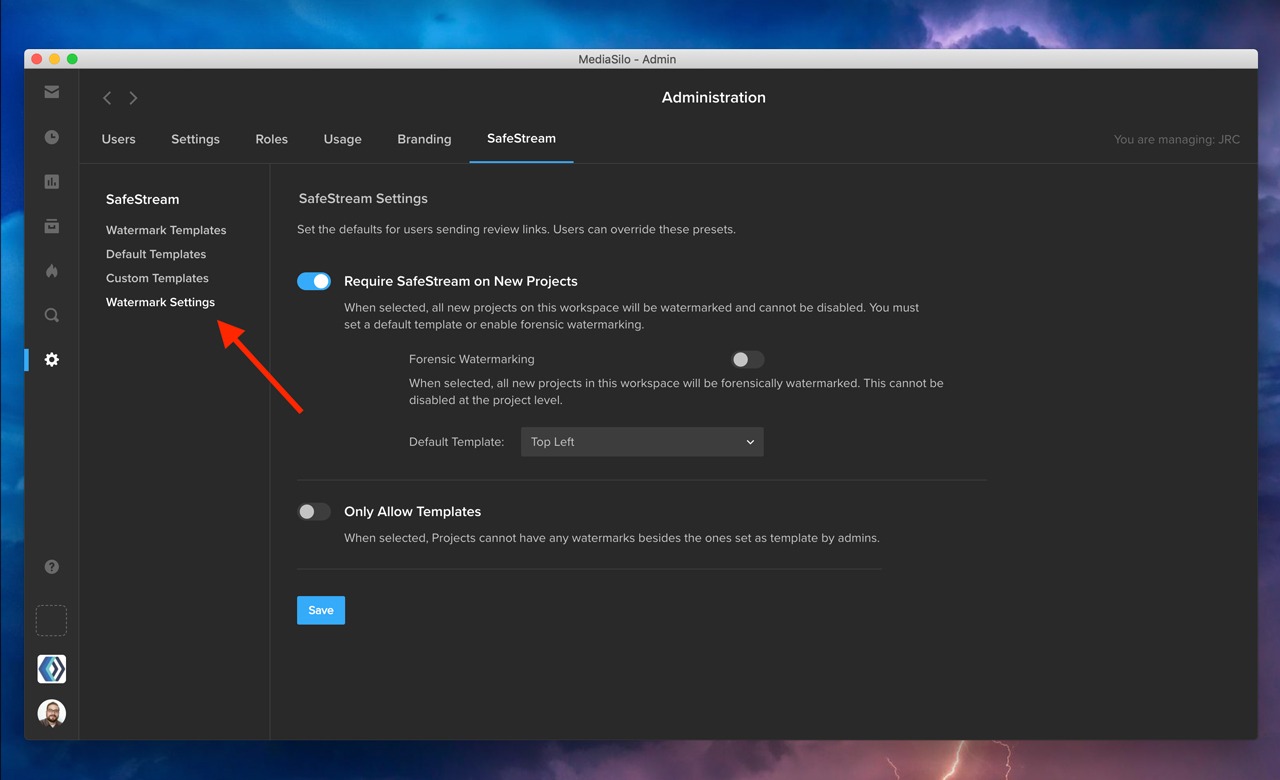 Here, you can choose to require SafeStream on any new project created in your workspace. Choose the watermark template you want to apply to new projects.
Turn on Only Allow Templates to limit which watermark templates can be used in your workspace. When this option is on, users cannot apply their own custom templates. Instead, they must select one of the templates available on the workspace level.
Usage
Administrators can keep track of SafeStream usage under the Usage tab. This displays minutes used and minutes remaining and shows how many minutes each project is using.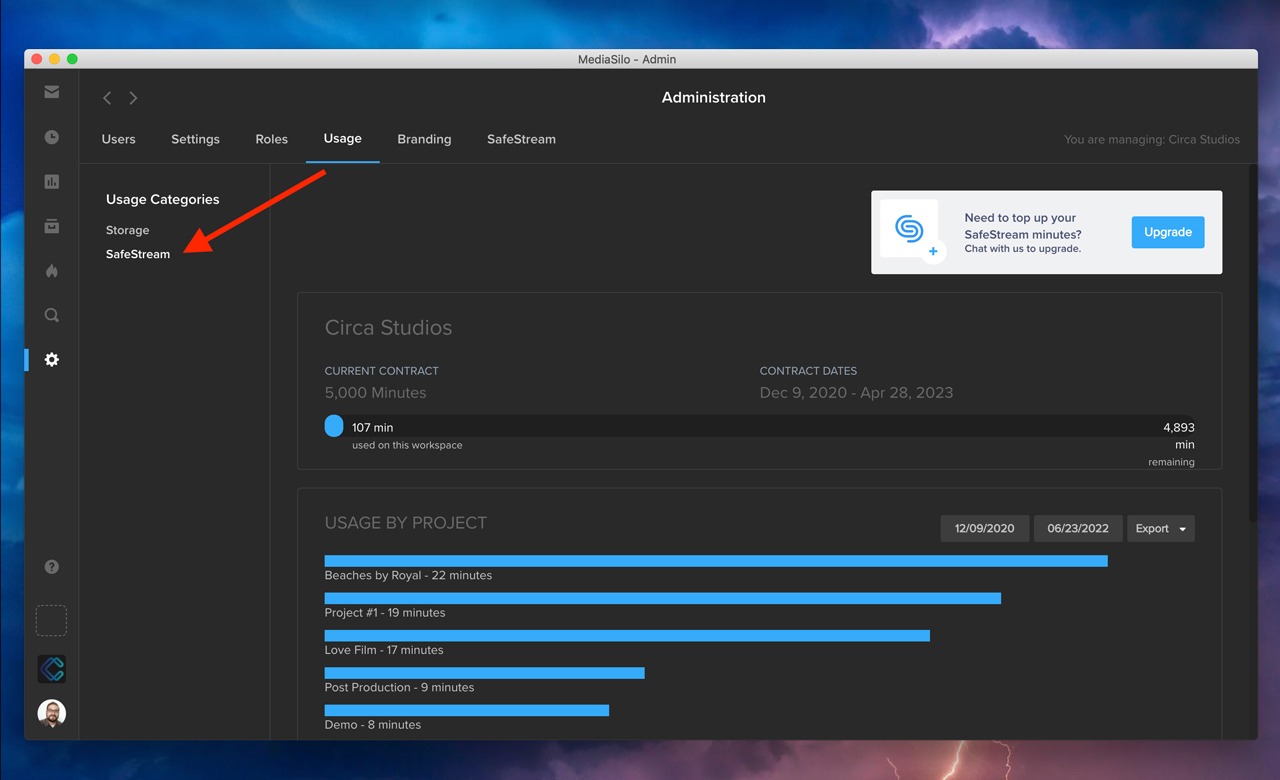 Sharing Restrictions
You can share watermarked content for review and approval, but your choice of watermark template will determine who you can share with. A template can display a viewer's name, email address, custom text, or any combination of these watermarks.
Name Watermark
This watermark displays the viewer's first name and last name, which are taken from the user's profile in MediaSilo. By applying a Name watermark to a project or a Review Link, you are limiting sharing to other users on your company's workspace. Even if you have external sharing permission, you can only share content with other workspace users when the template includes a Name watermark. In the Share window, public sharing options will be disabled.
An example of a watermark template displaying a user's name: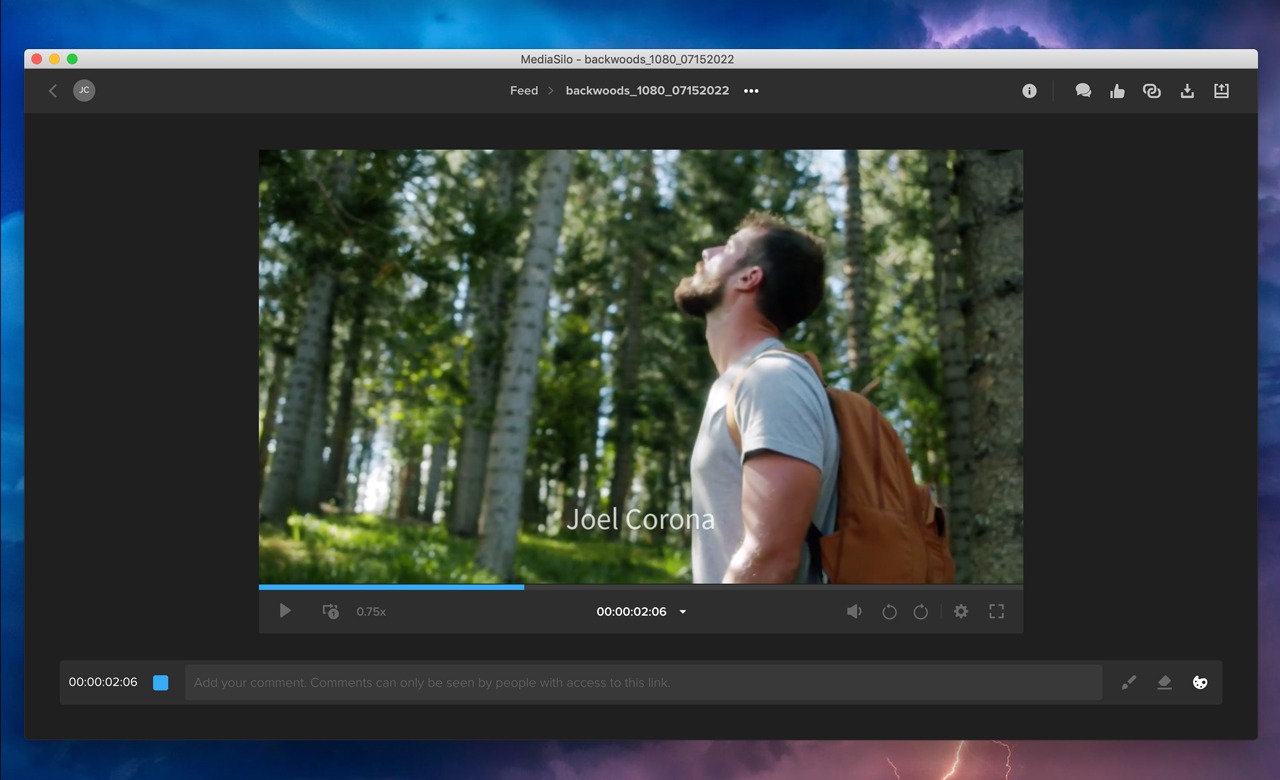 Email Address
This watermark is the viewer's email address taken from their user profile in MediaSilo, or if they are not a user, the email address you are sending the link to. If a template includes an Email watermark but not a Name watermark, then any user with external sharing permission can send watermarked files to non-users.
Users with external sharing permission can choose any Access type when creating a Review Link: Public, Password protected, or Workspace users. The only requirement is that they must specify link recipients.
An example of a watermark template displaying a viewer's email address: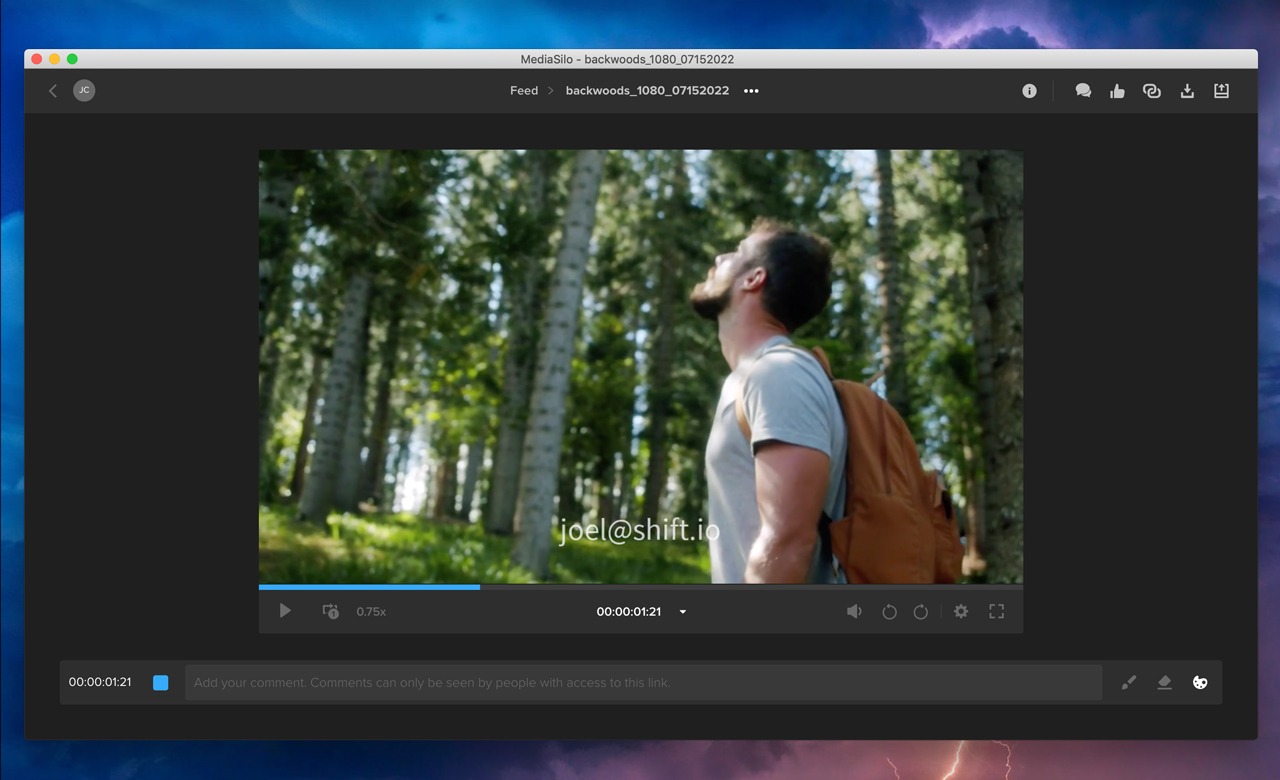 As with any Review Link, your audience must sign in to leave a comment.
Custom Text
This is any custom text, such as "Do Not Distribute." There are no audience restrictions when applying custom text because SafeStream does not have to personalize this text for each individual recipient.
The following chart shows the sharing options available based on the watermark template you are using. A "private" link refers to the "Workspace users" Access type. A "public" link refers to "Public" and "Password protected" Access types.