You can add an additional layer of security to your MediaSilo account by enabling Multi-factor Authentication (MFA). MFA links your account to a separate device and uses an authenticator app, such as Authy or Google Authenticator, to provide you with a six digit code. You must enter this code, which is valid for 30 seconds, to confirm your credentials and complete the login process. If you are a workspace administrator, then you can require users to authenticate using MFA.
MFA in MediaSilo is global across all workspaces, so once it's set up, you have a single MFA token that works for all accounts/companies that have added you to their MediaSilo workspace, without needing to enter codes repeatedly.
Enabling MFA
To set up MFA in your MediaSilo account, click your profile image in the bottom-left corner (or your initials if you haven't uploaded a profile image), and select "My Profile" from the menu.
Then, go to your profile's Security section. By default, MFA will be disabled and you will need to enable MFA by clicking the toggle next to "Multi-factor Authentication."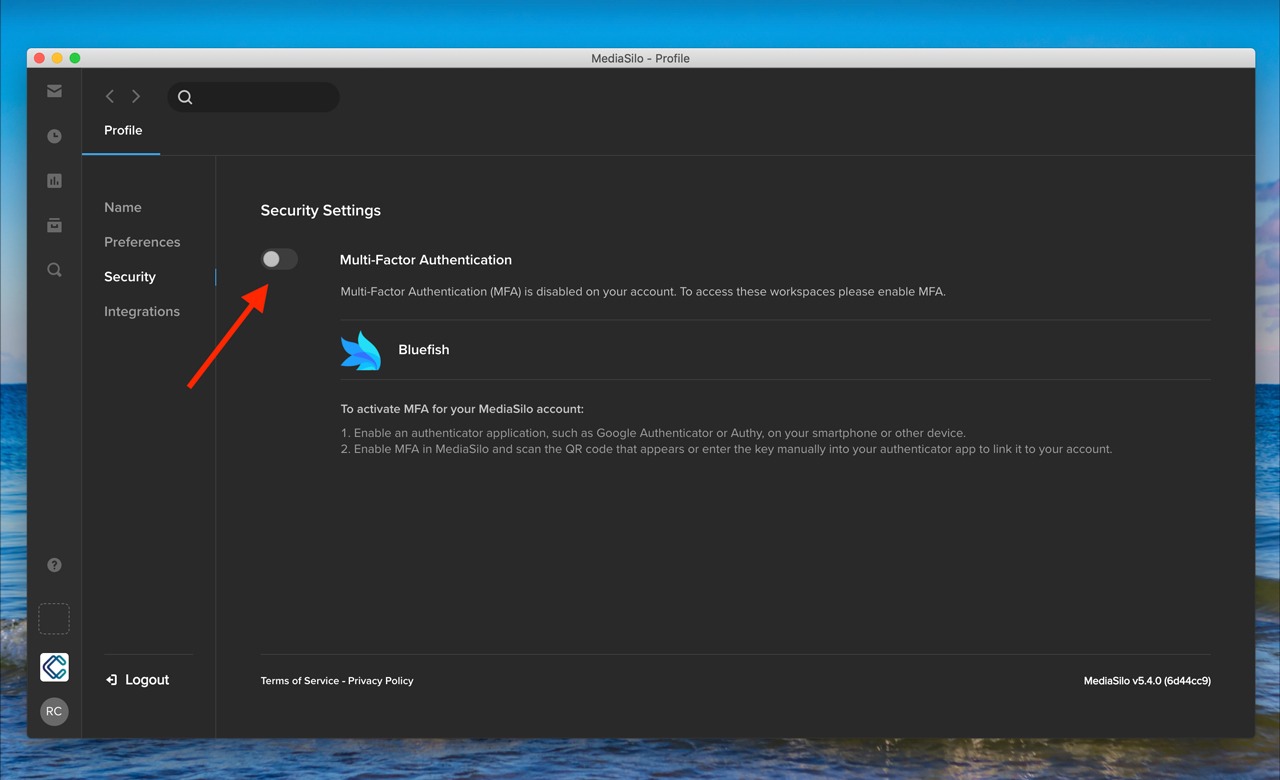 After you turn on the toggle, you are provided with a QR Code that you will need to scan with an authenticator app. We recommend you download either Google Authenticator or Authy on a secondary device to scan the QR code.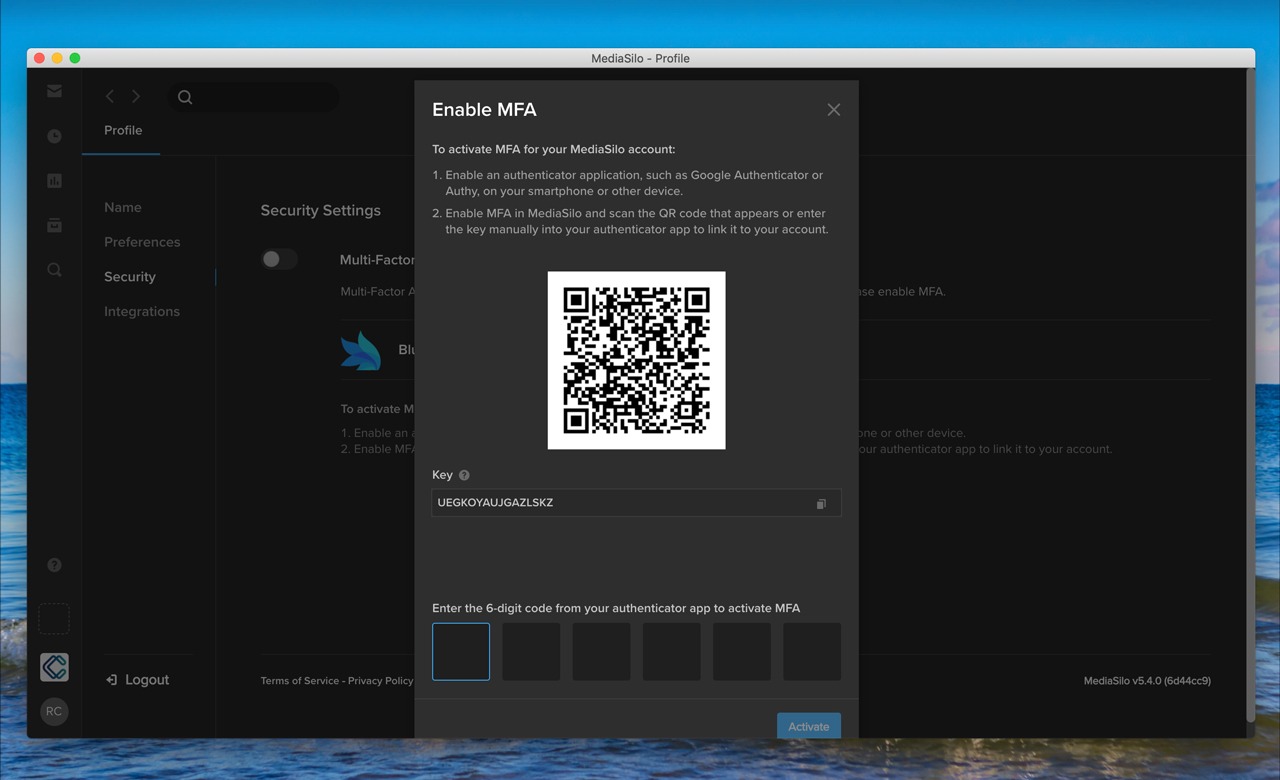 Once you download your authenticator app, either scan the QR code with the app or manually enter the Key into your authenticator app. Once this is complete, MediaSilo will be added to your authenticator app and you will be provided with a temporary 6-digit code on your device that you will need to enter in your MediaSilo account as shown above.
After you enter the 6-digit Code, click "Activate" to validate the code and complete the process of enabling MFA for your MediaSilo account. You will then need to visit your authenticator app to retrieve your 6-digit code each time you log into your MediaSilo account.
Disabling MFA
If you wish to disable MFA for your MediaSilo account, log into your MediaSilo account and navigate to the Security Settings page in your User Profile. Then click the toggle next to Multi-factor Authentication to Disable MFA.
Once clicked, a Disable MFA modal will appear that will require you to enter the 6-digit verification code from your authenticator app to confirm the action. It will also inform you of any MediaSilo Workspaces you will no longer have access to once you disable MFA.
Enter the 6-digit code from your authenticator app and click "Disable" to remove the MFA requirement from your MediaSilo account.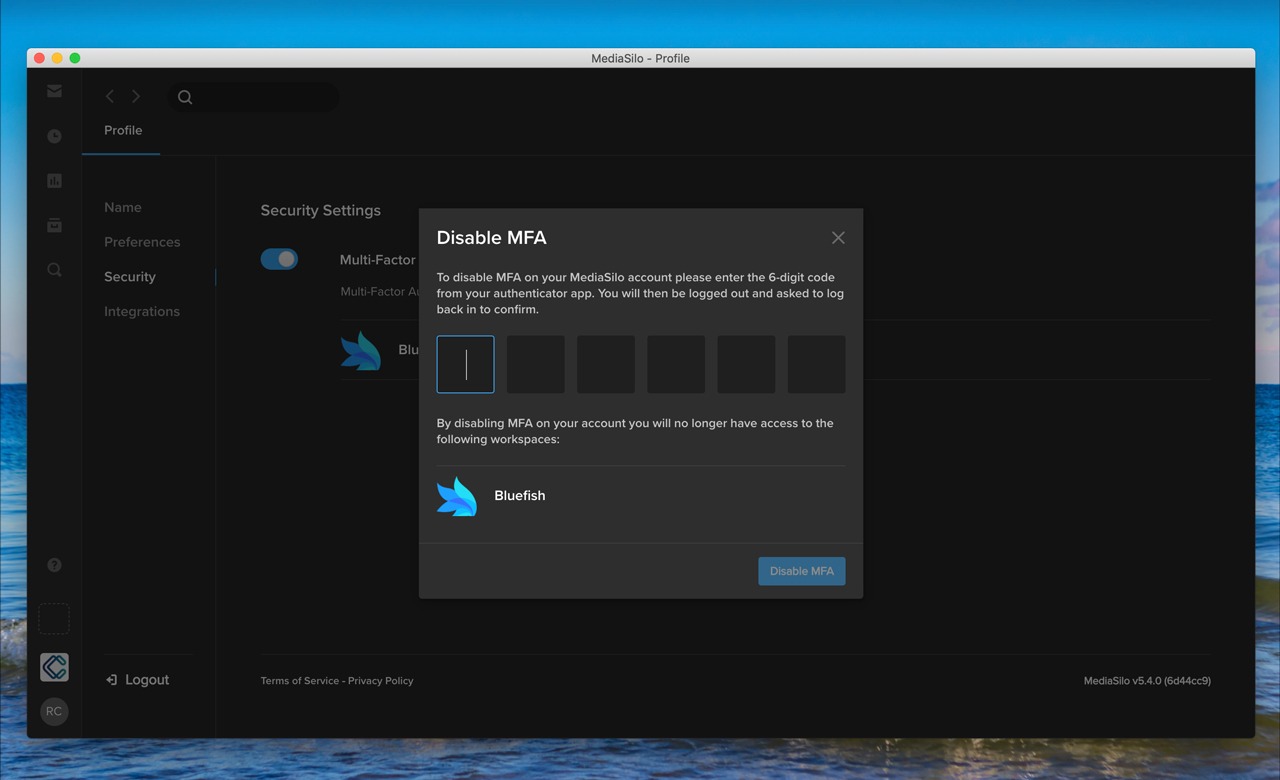 Switching Phones
When buying a new phone/trading in an old phone, it is important to know that your tokens are tied to the device and will not be transferred in a typical data migration.
Our team recommends using apps like Authy that can back up your tokens to the cloud. This way you can transfer your MFA codes across devices.
Screeners MFA Tokens
MediaSilo has a shared MFA token with Screeners.com. If you are a user on Screeners who has set up MFA, your token will be valid to access MediaSilo. If you enable it in either application, that token can be used in both.
Single Sign-On
If you use Single Sign-On to authenticate, it is not possible to enable MFA because you are restricted to the authentication rules set by your company's identity provider. If MFA is not enforced and you would like to add it, we recommend that you contact your administrator.