Users in MediaSilo are divided into three types: Administrator, Project Manager, or User.

Types:
Administrators possess global project access, and unlimited permissions on each project; whenever a new project is created, administrators are added by default. Administrators also have the ability to view the Administration tab, which enables them to access a User Management ("View All") menu, the ability to add custom branding, the ability to set account-wide security settings, the ability to create roles, see all QuickLinks sent and QuickSites created from an account, and the ability to manage billing. 

Project Managers are sub-administrators who administer a single project or set of projects. These users can only see the projects to which they have been given access; they can also create new projects. They also have the ability to perform any user creation or editing functions through the "Edit Project" menu. If a project manager does not possess the "Project Owner" role on a given project (or did not create it), their capabilities are limited to their role on the given project. 

Users are the most limited type, who can only see projects which they have been given access, and whose capabilities are constrained by their role on that project.

Roles:
Roles are permissions templates which administrators can create and conform to the needs of the individual use case. Each role can enable or disable the ability to view assets, edit title and description (Edit), delete, upload, download, export an excel spreadsheet of file data, request approval, rate (1-5 stars), comment, order transcripts, share files internally (private QuickLinks) or externally (Public QuickLinks). These are set on a per-project level by administrators or project managers.

Only Administrators can create new roles. To create a role, go to Administration, then select Roles icon on the navigation bar. This will reveal an overview of current roles, and you can create a new role by clicking the "+ Add Role" button on the top left.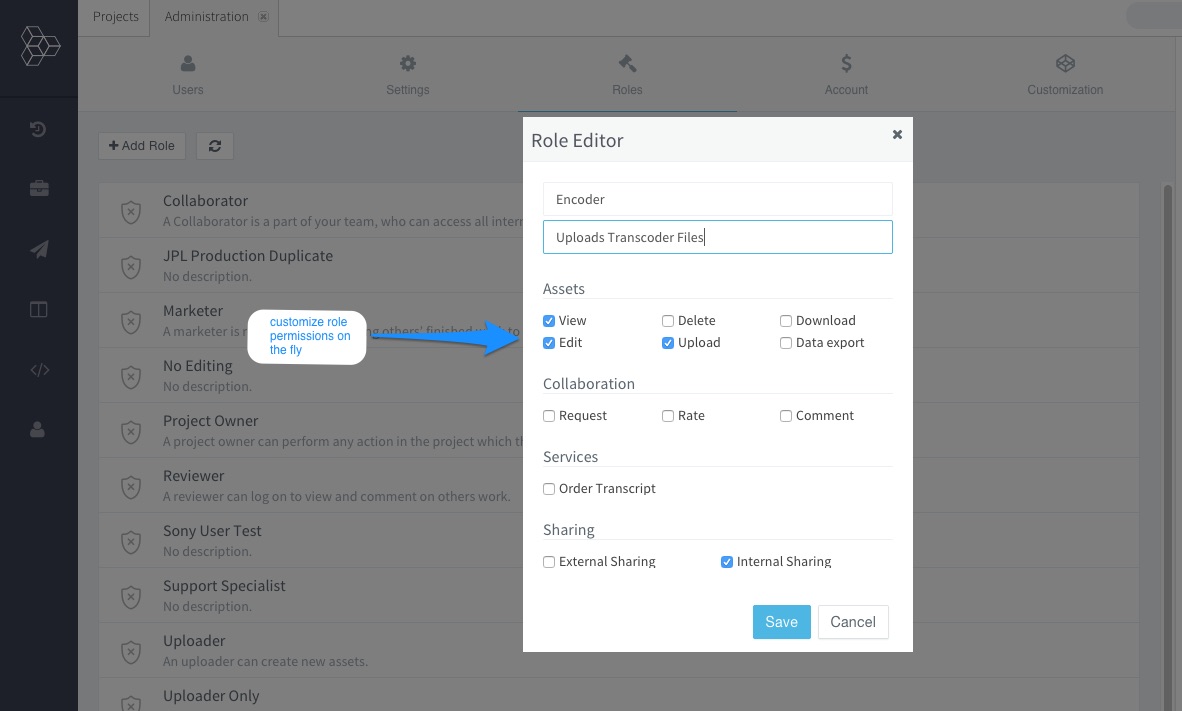 Creating Other Users, Project Managers, & Administrators
Administrators can create Users, Project Managers, and other Administrators. 

Within Administration Users tab, select + Add User then enter their username, name, email status (active or disabled), type (Administrator/Project Manager/User), and a default project role. 

NOTE: If you set a new User's password, you can decided whether or not to notify them of their credentials. If you do not set a password, the User will be sent an email to set their own password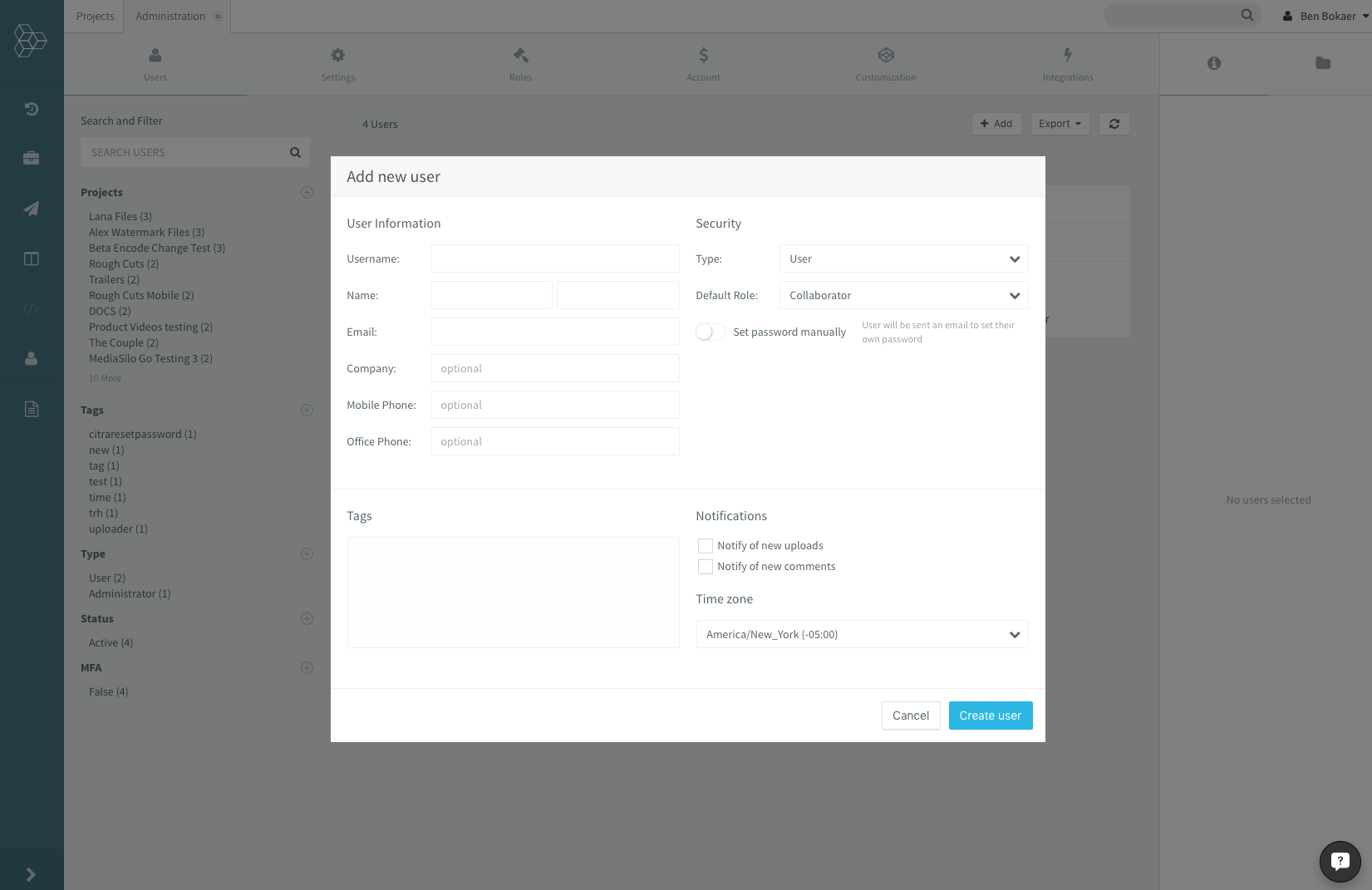 Assign and manage the User or Project Manager's project access (access is global for administrators), with the appropriate role for each in the Project Panel on the right.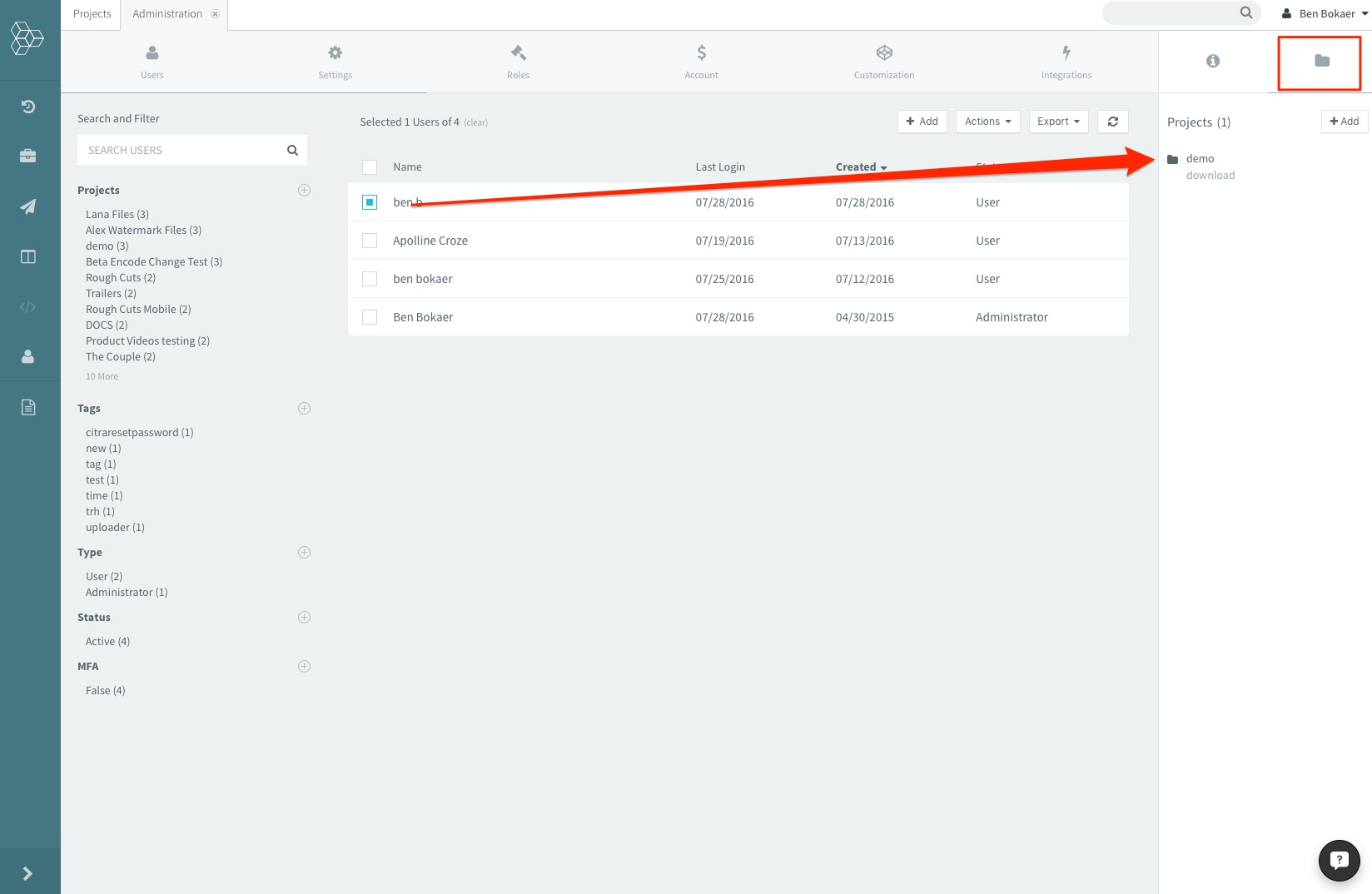 Editing Users:
Administrators have the option to Edit individual User settings by selecting the User and clicking the Edit button in the right-side panel.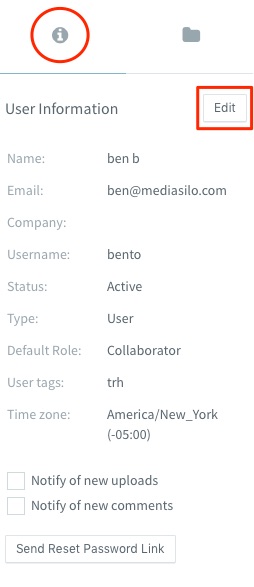 To Batch Edit and Delete Users, select the Users and then choose an action from the Actions dropdown menu.
 


Admins can batch Add to projects, Remove from projects, Change status, Send password reset links, Manage notifications, Add tags, and Delete.

Administrators have the option to Disable any users by changing their current Status to "Disabled." This will prevent the user from logging in even with the proper credentials, while preserving their project and role permissions data. When a user is disabled, they do not count towards the user limits of your package. 


Sorting, Searching, Filtering, & Exporting Users:
Users can be sorted by ascending or descending Name, Last Login, Created date, and Status columns. 

They can also be searched and filtered by Projects, Tags, Type, Status, and MFA settings in the left-side panel: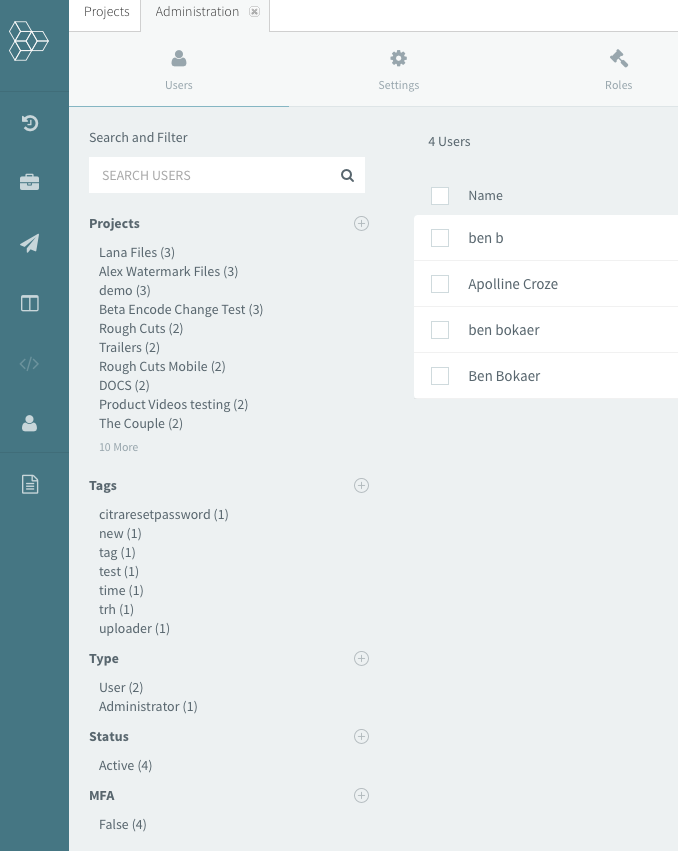 And now you can Export your User List as a .csv or .xls file by selecting the Export button: